The main character of the novel is Lena, who returns to her family estate, beautifully situated on an island, after many years. Grandpa Albert's death brought deep trauma, but also the beginning of a new chapter in the lives of the entire family. With growing interest, Lena discovers the secrets of her grandfather's youth, a German camp prisoner who risked everything to get his beloved Jewish woman out of Auschwitz.
Quote from the book "Lovers from Auschwitz" by Magdalena Adaszewska
[…]
– I'm Jan.
– And I'm Sarah.
– I know.
– You know?
– Yes. And I'm sorry.
– What for?
"We're just talking here."
– It's not your fault.
I do not ask. I didn't ask for anything. I thought that if he wanted, he would tell me himself. Maybe he'll never be ready to talk, and maybe he'll tell me the next time I see him. It doesn't matter anyway. I pray that we survive. I did everything I could to see it and not offend anyone. I try to fulfill my duties and obligations perfectly. I did everything so that none of the police suspected anything.
Every day we passed each other, we exchanged glances. A word passed, behind the barracks, in the warehouse, there was a celebration. We spoke quickly and briefly. As if someone is always chasing us. This is a difficult and incomprehensible encounter in the normal world. In order to be able to see him longer, I learned about camp life from those who were doing well. Already on the first day I found out that those who study camp primers and tricks have a chance. I decided to take an example from them. I didn't know much about growing crops or vegetables, but I got jobs digging trenches, paving roads, and tending gardens, so I always had vegetables in my pocket. I did everything not to be assigned to the commando, where the work was beyond human strength and consisted in lifting boulders or railroad sleepers.
By imitating others, I learn to simulate work. Give the impression that you're doing hard work – but only when you're being stared at. Pretend to be healthy, strong, always in shape. I immediately realized who hit harder, dealt the death blow. Who should I avoid and what should I do so as not to draw attention to myself? How about arranging extra food, medicine, even something warm to cover. I learned to trade potatoes for soup, soup for bread. All these tricks worked for me to be able to meet Sara by bribing kapo.
I would take a cigarette and put it in his pocket so he would pretend not to know or see me talking to him. Sometimes one of my colleagues, a fellow inmate, would be on alert and warn whenever someone from the SS approached. In time, we have our place. In a small room, a clothes storage. We stole a few moments for each other. In our rush, we told each other about life or sat silently hugging each other.
Our love is poor. Not as you know. simple. Shut up. humiliated. Yes. I love her. A girl in a pinstripe uniform with a shaved head and a body bitten by fleas. He is everything to me. Although Auschwitz is not a place to love. Love gave birth to a thought in my head. I'm still scared of him, but I'm starting to imagine us free, lying in the grass, his head on my shoulder, looking up at the stars.
I want to relive the moments that the war has taken from us. Plan your day. Reliving all the things I've been trying not to remember so it's less painful. Feel happiness. Find your own youth. I can only bury it here. I don't know how I'm going to do it. But the thought haunts me. I grabbed his claws. Sarah doesn't know anything yet. I didn't tell him so as not to scare him. I realized that I had to plan everything, work out every detail for my plan to work. I decided to do everything to escape from the extermination camp together with Sara.
[…]
Book "Lovers from Auschwitz" by Magdalena Adaszewska available at the best bookstore chains and stationary bookstores and online, including at livelo. plas well as in e-book versions, e.g. at empik, virtualo, woblink.pl, legimi.pl, publio.pl, ebookpoint.pl.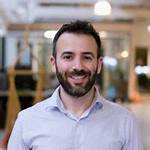 "Reader. Future teen idol. Falls down a lot. Amateur communicator. Incurable student."